When it comes to construction stone and rock, the wide variety of options may feel overwhelming. Not to worry—we'll offer information and advise to help you learn more about the different types of river rock, stone, and gravel and their uses. In this blog, we'll dive deeper into the commercial uses for construction rock and give you all the information you need to choose the best type of rock for your job site.
A Brief History of Stone on Job Sites
The history of stone and river rock on job sites begins with the different types of aggregate which exist. Aggregate is, simply put, the stone in more commonly known types of construction materials, such as concrete and asphalt. Aggregate can be used in its natural state (such as gravel or sand), can be crushed and shaped until it reaches the necessary state for the job site, can be made artificially to meet specifications of the site, or can be recycled.
Most types of aggregate come in the form of crushed stone, which is sourced from quarries and sifted, separated, and crushed to meet certain guidelines. Aggregate provides a foundation for concrete and other types of rock, allowing the material to maintain good longevity and endurance.
However, crushed stone didn't become popular on construction sites until the 1940s and 50s because there were no machines powerful enough to crush stones before that time period. Once efficient machines with tracks were developed, crushed stone became popular across the board—until it became a quintessential component of any construction project.
Common Types of Rock Used in Construction
There are several options when it comes to types of rock used in construction, but there are six types that are more popular choices.
#57 Rock
#57 Rock is named for the size of the sieve through which the rock is sifted, separated, and finally crushed. In essence, this type of rock is a crushed aggregate that can be used in a variety of construction and landscaping job sites. As a versatile rock type, #57 is a popular choice for projects that require gravel or something similar. Like gravel, #57 has a uniform size with jagged edges that result from the crushing process.
This type of rock is sourced from natural stone deposits, and depending on the source, #57 can be comprised of granite, limestone, or washed gravel. Its most common uses include driveways, sidewalks, roads, and in the production of concrete.
PROS:
• Keeps formation well due to its angular shape
• Provides good drainage
• Helps hold together walls, underground pipes, sewer lines, and utility lines
CONS:
• Not very aesthetically pleasing
Flex Base
The coarse stone of flex base road material is generally used for driveways and temporary roadways, as it's not the most durable form of rock. Other names you might know for flex base include base and caliche.
PROS:
• Great foundation for roads and driveways
• Helps roads last longer
CONS:
• Meant to be temporary or used as a base
Pea Gravel
As you might guess from the name, pea gravel is comprised of very small rocks. These crushed pebbles come in a variety of colors, such as brown, white, gray, and even translucent.
Because of its aesthetically pleasing appearance and round, smooth surface, pea gravel is a popular choice for walking paths, patios, driveways, playgrounds, gardens, and other areas which don't see too much traffic.
PROS:
• Great weed suppressant in gardens
• Perfect for decorative spaces
CONS:
• Natural erosion leaves the stones smooth, so they do not hold in place well and require an edging material like concrete or foundation gravel to keep them in place
River Rock
River rock is washed gravel that comes in a smooth, round shape. Like pea gravel, river rock comes in a multitude of colors (shades of red, white, gray, and tan), but unlike pea gravel, it comes in a diverse range of larger sizes.
The best uses of river rock are for gardens, walkways, around patios, and in residential construction.
PROS:
• Can be used for decorative as well as practical purposes
• Provides good drainage because it is a loose type of rock
CONS:
• Not suitable for large construction projects which require a more stable base
‍
Road Base
Like the name implies, road base is used for roads and driveways, serving as an alternative to asphalt in places where asphalt is not allowed or costs more. Road base is a mix of coarse and thin aggregate which takes shape and solidifies within a few weeks.
PROS:
• Cost-effective alternative for driveways, parking lots, and roads
CONS:
• Not as durable as asphalt
Utility rock
With sharp edges and loose rocks, utility rock is best used in construction projects which require good drainage. These include pipeline construction, embedment, backfill, parking lots, pathways, decorative landscapes, and driveways.
PROS:
• Perfect choice for draining purposes
CONS:
• Not the strongest or most stable type of rock for your job site
‍
While the types of rock listed above are the most popular, there are several other available options if you feel that none of these match your specifications. In addition, sometimes there are multiple options of rock or gravel that could work for your job site. Out of these six types of rock, many are interchangeable or work well together. As an aggregate hauling company that hauls all types of stone, rock, and gravel in a wide variety of colors and sizes, we can help you find what's best for your job site.
‍
Types of Job Sites That Need Stone
If you're not sure what type of stone is well suited for your construction project, it might be helpful to review a few common job sites that use stone.
Sidewalks
Sidewalks often employ rock or gravel that is easy to walk on, remains even, and doesn't hurt when walking barefoot or with thin shoes. While plain old concrete or asphalt may be used, other choices like pea gravel and river rock can spruce up the look and feel of sidewalks.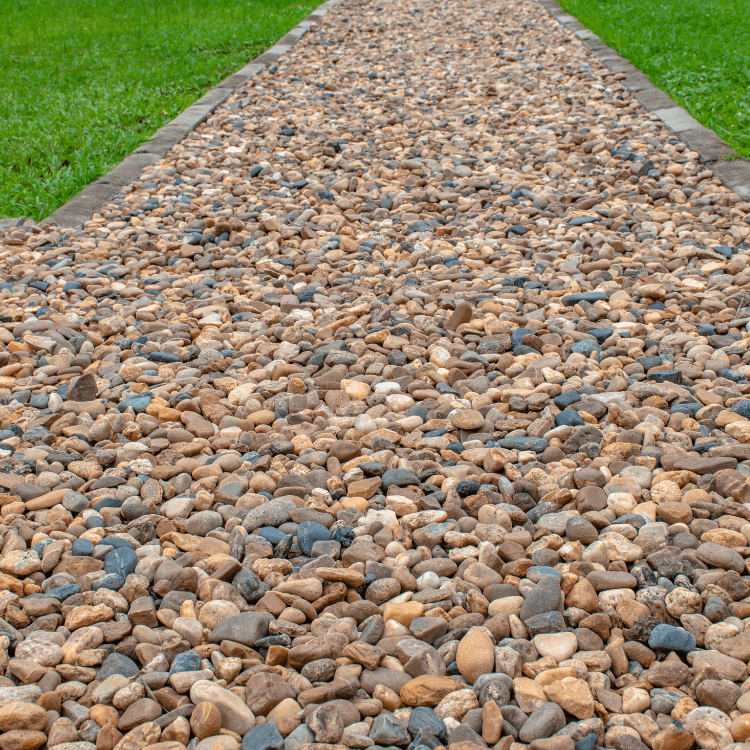 Driveways & Roads
Aggregates for concrete provide solid foundations and good drainage systems for both driveways and roads, and of course both of these job sites need durable types of rock. Crushed stone aggregate, road base, and utility rock are recommended for these types of construction.
Landscaping
Have weeds that you want to suppress in a flower bed? Looking to spice up your garden with more decoration? Aesthetically pleasing gravel and rock—like pea gravel and river rock—are perfect choices for landscaping.
‍
Trailers We Haul Stone With
Because of our wide range of materials, quarry connections, and trailers, we provide both aggregate hauling and material hauling services for all your construction rock and stone needs. In order to ensure that your material arrives on time and in perfect condition, we use three different types of trailers to haul rock, stone, and gravel. Each one has benefits and disadvantages depending on what types of stone you're looking to haul.
Steel End Dump Trailers
Steel end dump trailers are designed to withstand large loads of rock, heavy gravel, demolition, and more. While end dump trailers can be made out of steel or aluminum, steel is a better choice for tougher and heavier jobs, or for daily use. End dump trailers can quickly unload any type of building material for your job site.
Aluminum End Dump Trailers
As a lighter alternative to steel trailers, aluminum end dump trailers are perfect for less heavy loads. They are great over long distances and can be pulled by a small tow vehicle due to their lightness.
Dump Trucks
If your project doesn't require any major lifting or specifications, your best choice might be the good old-fashioned dump truck. With efficient loading and unloading time, dump trucks are a cost- and time-effective option when hauling construction material.
---
Contact Us for Construction Rock Today
As your rock, stone, and gravel hauling experts, we can help you find the perfect construction stone fit your job site. If you're in the Austin, Waco, or Bryan areas of Texas, we're your go-to construction rock supplier, with our specialties being construction material hauling services and aggregate hauling. Whether you know exactly what type of stone you're looking for or are just browsing around, our team can help you choose the best stone, rock, or gravel for your job site.
---
FAQs
What types of construction stone are commonly used in commercial projects in Texas?
The most common stone categories in Central Texas are Limestone, River Rock, Granite, and Recycled Materials. Limestone and Granite are relatively interchangeable, but have different properties. Limestone is abundant, granite is restricted to only certain areas of Texas; Limestone is soft, granite is very durable. River Rock is a naturally occurring rock that is multicolored and smooth; it is sometimes, but not often, interchangeable with limestone or granite. Recycled materials included recycled crushed concrete and asphalt millings, which are produced by processing reclaimed concrete and asphalt.
These materials are offered in a variety of types and sizes. The most popular variations, for both commercial and residential projects, includes flex base, spec road base, screened rock, bull rock and rip rap. Flex base is an untested, unregulated, mixture of dirt and rock that combines to make an acceptable pad or road. Spec road base is the same as flex base, but meets consistency criteria set by the state or local government, and as such is better for road and structural foundation construction. Screened rock can come in a variety of sizes, but is typically between ⅜" and 2" in diameter. Bull Rock is a size up from screened rock and is typically 2" to 6" in diameter. Rip Rap is yet another step up and is offered from 6" to 36"+ in diameter.
What are the environmental and safety regulations that quarrying and processing construction stone must comply with in Texas?
Quarry operators and anyone who works with construction stone must comply with local, state, and federal environmental and safety regulations. These regulations include worker safety and wildlife protection, as well as limits on practices related to air emissions, water quality, and land use.
What are some of the most popular commercial applications for construction stone in Texas?
From building sidewalks to paving roads to constructing buildings, construction stone is used for a variety of commercial purposes in Texas. While each type of stone may be better suited for one project than another, many are versatile. Other common applications include building driveways, railroads, and drainage systems.
What are some of the challenges associated with using construction stone in commercial projects in Texas, such as availability, cost, and durability?
Some types of construction stone, such as washed #57 rock, are not as readily available as other types, such as unwashed #57 rock, and may have to be imported in order to find a material that fits the contractor requirements. Rarer types  of material can get expensive because of the high demand or the associated transportation costs. That said, there are usually alternatives to each type of construction stone, though they may not be as durable or effective as their counterparts. Other challenges associated with using construction stone in commercial projects include sustainability and design limitations.
What are some of the key factors to consider when selecting construction stone for commercial projects in Texas, such as color, texture, and durability?
When choosing construction stones for commercial projects in Texas, several key factors come into play. Consider the desired color, texture, and durability, as they play a crucial role in the stone's appearance and long-term maintenance. Additionally, factors like erosion resistance and weather exposure should be assessed to ensure the stone meets the necessary durability requirements. For sustainability, explore options like locally sourced or recycled stone. Finally, remember that professional testing is essential to meet state specifications and ensure material quality for commercial buildings.